SLAP 1.0.0.13

Second Life Avatar Probe (SLAP) - a simple online-notifier (onliner) shows a Second Life friends list (program gets data directly from the secondlife.com site) and notify you about friends switched online or offline. By default friends list updated every minute.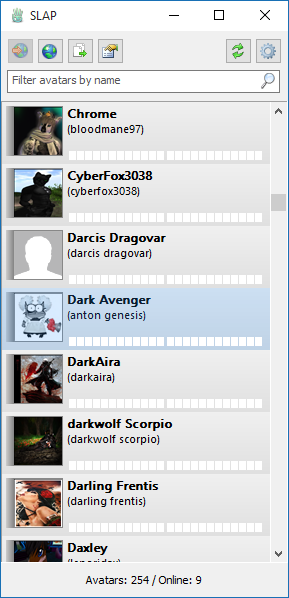 ---
---
Features
Popup notification when friends goes online or offline;

Shows friend picture, both names and location;

Notification customization;

Alarm mode;

Quick actions:

teleport to the friend (if possible);

open friend's web-profile;

copy a friend's name to the clipboard.

Run at Windows startup;

Auto-update.
Information
Program downloads friend's pictures every 2 days and saves to the disk to "%LOCALAPPDATA%\Raspopov\SLAP" as PNG-files.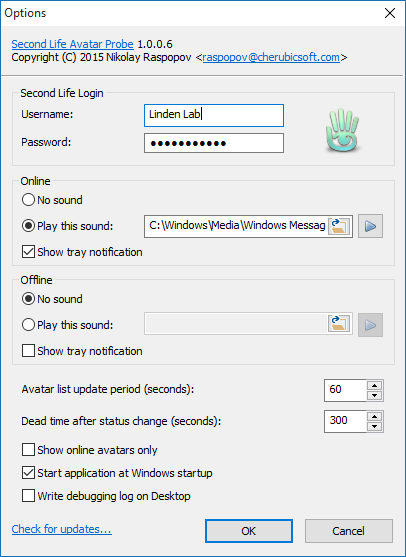 Hotkeys
| | |
| --- | --- |
| Enter, double MLB1) | Avatar Options |
| Alt + double MLB | Open Web-Profile |
| Ctrl + double MLB | Teleport To |
| Shift + double MLB | Simulate notification |
| Delete | Delete selected avatar 2) |
| F1 | Open this web-site |
| F5 | Refresh list |
| Ctrl + P | Global Options |
| Ctrl + C, Ctrl + Insert | Copy to the clipboard |
| Shift + mouse | Snap main window to the screen edges |
---
©
Николай Распопов